With busy lives we know it can be difficult to commit to lengthy hours as a volunteer. The hours shown after each position description indicate the hours that are available to work at ROC. Even if you can only come in once and a while we can still use your help!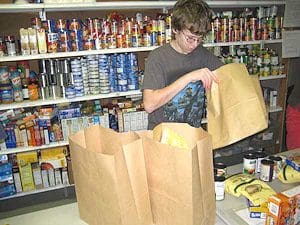 Grocery bagger – From a preset menu makes bags of groceries for weekly distribution. Tuesdays through Saturdays from 9AM to 12 PM 
Pantry shelf stocker – Under the direction of the warehouse manager break down large quantities of packaged foods and place in designated places on pantry shelves. Pantry stocker should be able to lift 20 pounds repetitively and up to 40 pounds periodically. Hours vary based on need and availability of goods.
Distribution worker – Cover the pastry and bread table, produce boxes or condiment shelves to ensure they are kept filled and the clients are taking the designated amount of each item. Thursdays between 1-5 pm and Saturdays from 9 am – 12 pm.
Pet Food bagging – Bag predetermined amounts of dog and cat food and brings to client bag distribution counter to include in weekly bags of food. Hours are flexible.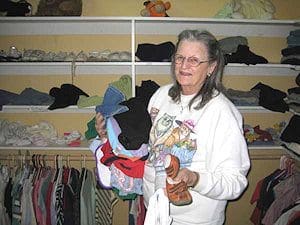 Bag distribution counter – provides bags of groceries, meats and dairy products to families as the come through the pantry for their food. Thursdays 1-5 pm and Saturdays from 9 am-12:00 pm.
Delivery program – We are always in need of drivers!!! Deliver weekly groceries to home bound seniors and disabled. Route based on location of clients. Training is provided. Deliveries are done every Thursday between 9AM and 12 PM.