In 2004, ROC Food Bank was launched behind the First Christian Church adjacent to downtown Grants Pass. In that first week we served two people.
When six volunteers signed up, we began to work on converting the garage off the bank alley into a food pantry. By August 2004 we had recruited 30 people to serve clients each week.
---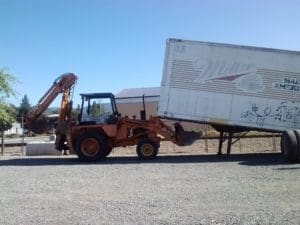 In November 2006, Lillian Hoover gifted ROC with a large contribution. That gift enabled ROC to begin to distribute USDA food.
Our mission statement was "Our calling is to serve those in need with respect for their human dignity and with love as Jesus asks of us. While we feed their body, we will also provide resources to improve their overall condition — body, soul, and spirit."
In March 2007 we developed our long term vision "Our vision is to purchase a building and provide funding to administer future ministry and programs, and partner with other churches for donations of time, energy, supplies, and money to expand services and outreach."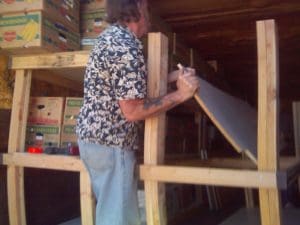 We envisioned becoming a community resource center that helped with more than food. We also decided to provide bedding, household needs, camping needs for the homeless, and offer referrals to other services within the community including education and training to improve their present conditions and offer spiritual encouragement.
In April 2007, we bought the Orowheat Building and named our food bank
ROC – Reaching Our Community.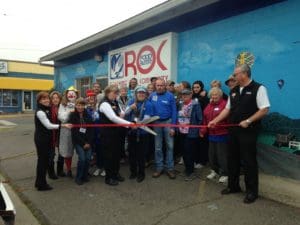 In 2008, we offered a second day of distribution and doubled the number of people we served.
In May/2008 we began to offer food delivery for home-bound people. We also distributed more than 15,500 pounds of free clothing.
In 2009, we completed our kitchen and added a Warehouse Coordinator position, a new ROC director, and a second distribution day on Saturdays.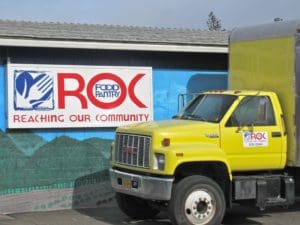 In 2009 we made 1000 home deliveries with the help of 6,776 volunteer hours.
Fast forward to 2020, ROC consistently serves over 5,200 people a month and makes an additional 200 monthly home deliveries.
ROC currently has 38 volunteers who work 700 hours each month, we also benefit from four Easterseals Senior Community Service Employment Program participants who contribute an additional 384‬ hours each month to ROC's operation.
If you have any additional history or pictures of ROC, we would like to publish them, please send anything you have to roc4people@rochome.org.