2 teaspoons vegetable oil
2 cloves garlic, minced or 1/2 teaspoon garlic powder
1 medium onion, chopped
1 green bell pepper, chopped
2 cups fresh mushrooms, sliced
1 cup corn, frozen or canned and drained
1 can (15.5 ounce) pinto beans, drained and rinsed
1 can (8 ounce) tomato sauce
1 can (14.5 ounce) stewed tomatoes
1 cup cheddar cheese, grated (low fat)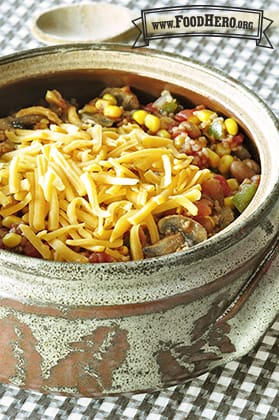 Heat oil in large skillet over medium-high heat (350 degrees in an electric skillet).
Add garlic, onion, pepper, and mushrooms and saute until tender, 6-8 minutes.
Add remaining ingredients except cheese.
Reduce heat to low, cover and cook until bulgur is soft, 10-15 minutes.
Sprinkle with grated cheese and serve.
Refrigerate leftovers within 2 hours.
Use kidney or black beans instead of pinto beans.

One large ear of corn makes about 1 cup of cut corn.

Top with light sour cream.

Cook your own dry beans. One can (15 ounces) is about 1 1/2 to 1 3/4 cups drained beans.
Recipe and images are © of https://foodhero.org/, used with permission.