1 can (5 ounces) tuna in water, drained
1 teaspoon chicken bouillon
1 can (10.5 ounces) low sodium condensed cream of chicken soup
8 ounces egg noodles (4 1/2 cups dry)
1⁄2 teaspoon onion powder
1 Tablespoon prepared mustard
1⁄3 cup nonfat or 1% milk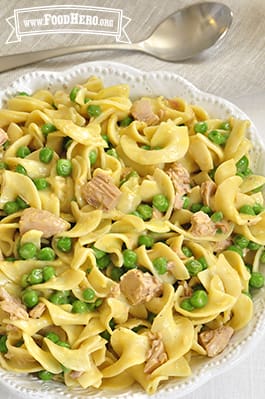 Cook noodles using package directions.  Add peas for last three minutes.  Drain.
Mix remaining ingredients in a small bowl.  Add to drained noodles, and stir well.
Cook on low heat, stirring often, until heated through. Serve warm.
Refrigerate leftovers within 2 hours.
Cream of Mushroom or Cream of Chicken Mushroom soup can be substituted for Cream of Chicken.

Try whole wheat egg noodles.

Replace the chicken bouillon with chicken broth or stock.

Reheat the casserole in the microwave if it has cooled before serving.

Recipe and images are © of https://foodhero.org/, used with permission.