Southwestern Stuffed Potatoes
2 medium potatoes (each about 5 inches x 2½ inches)
1 cup black beans, rinsed and drained
1 cup corn (canned and drained, frozen, or fresh cooked)
1⁄2 cup shredded cheese (try cheddar, pepper jack, or Mexican blend)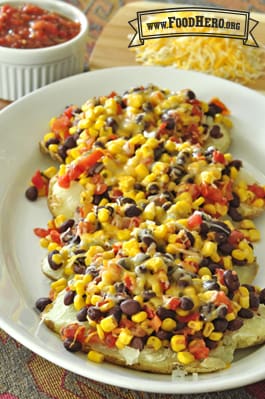 Scrub potatoes well. Poke each potato with a fork 2 or 3 times. Microwave on high for 5 minutes, turn potatoes over, and microwave another 3 to 5 minutes, or until easily pierced with a fork. Set aside.
In a microwave safe bowl, combine beans, salsa and corn. Microwave for 2-3 minutes, stirring occasionally, until heated through.
Cut potatoes in half length-wise and flatten with a fork. Divide bean mixture between the four halves. Sprinkle with cheese and serve warm.
Refrigerate leftovers within 2 hours.
Try kidney or pinto beans instead of black beans.
Add leftover cooked chicken, turkey or ground beef.
Topping ideas: hot sauce, avocado, black olives, green onion, cooked meat or tofu, plain low-fat yogurt or sour cream.
Recipe and images are © of https://foodhero.org/, used with permission.