2 teaspoons vegetable oil
1 can (15 ounces) can cream style corn
1⁄2 cup (2 ounces) cheddar cheese, grated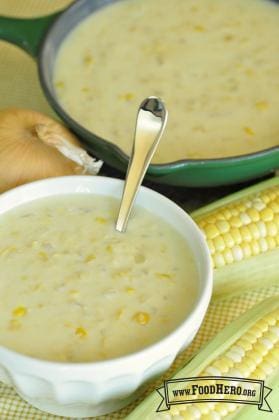 In a large skillet over medium-high heat (350 degrees in an electric skillet) saute onion in oil until transparent.
Add corn and milk. Stir until mixed together.
Heat until just bubbly.
Stir in cheese and serve as soon as melted.
Refrigerate leftovers within 2 hours.
Add any other veggies you have on hand – fresh, frozen, or canned.
Add pepper, dried cumin and/or oregano for extra flavor!
Recipe and images are © of https://foodhero.org/, used with permission.