2 large baking potatoes, peeled and diced
1⁄2 cup shredded cheddar cheese
1⁄2 cup non-fat or 1% milk
1⁄2 teaspoon salt
1⁄4 teaspoon pepper
1 pound lean ground beef (15% fat)
1 teaspoon onion powder (optional)
3 Tablespoons flour
4 cups frozen mixed vegetables
1 teaspoon or cube beef boullion
1 cup water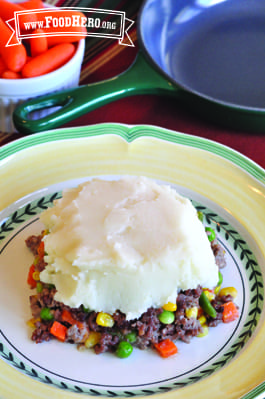 Put diced potatoes in saucepan; add enough water to barely cover. Bring to boil. Reduce heat and simmer, covered, until soft (about 15 minutes.).
Drain potatoes and mash. Stir in milk, cheese, salt and pepper; set mixture aside.
Preheat oven to 375 degrees.
Brown meat in a large skillet. Add onion powder, if using. Stir in flour, and cook for 1 minute, stirring constantly.
Add vegetables, bouillon and water. Cook 5 minutes until bubbly.
Spoon vegetable mixture into 8 inch square baking dish. Spread potato mixture over vegetable/meat mixture.
Bake 25 minutes, until hot and bubbly.
Refrigerate leftovers within 2 hours.
Recipe and images are © of https://foodhero.org/, used with permission.