2 cups cooked rice, cooled
1 apple, chopped (about 1 ½ cups)
2 Tablespoons chopped almonds
1⁄2 cup low-fat plain yogurt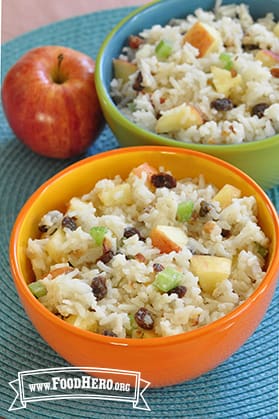 Combine rice, celery, apple, raisins, and almonds in a medium bowl and mix well.
Combine yogurt, orange juice, and sugar and stir until sugar dissolves.
Pour the yogurt mixture over the rice mixture and mix well. Cover and refrigerate until ready to serve.
Refrigerate leftovers within 2 hours.
Recipe and images are © https://foodhero.org, used with permission.