1 pound lean pork; ground or small cubes
1 cup onion, diced
1 teaspoon ground cumin
2 teaspoons chili powder
1⁄4 teaspoon pepper
1 teaspoon garlic powder
1 teaspoon dried oregano
1 3⁄4 cups (15 ounce can) cooked beans, any type; drain and rinse canned beans
1 cup corn, frozen or canned/drained
2 cups chicken broth
1 cup (4-ounce can) diced green chilies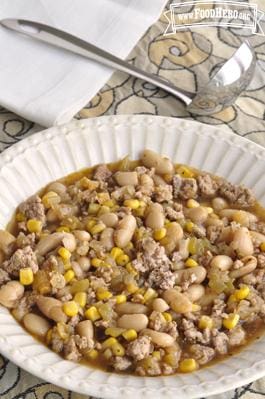 In a large saucepan, brown pork with onion. Stir in cumin, chili powder, pepper garlic powder and oregano.
Add beans, corn, broth and green chilies. Bring to a boil.
Reduce heat, cover and simmer for 15 to 20 minutes.
Refrigerate leftovers within 2 hours.
Recipe and images are © of https://foodhero.org/, used with permission.