1 can (14.5 ounces) diced tomatoes with juice
1 can (8 ounces) tomato sauce
1 teaspoon garlic powder or 4 cloves of garlic, minced
1⁄2 teaspoon black pepper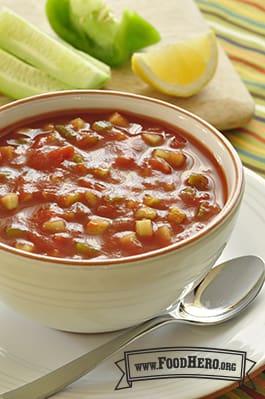 Wash the pepper and cucumber. Then peel the cucumber.
Chop the pepper and cucumber very finely.
In a medium bowl, add the rest of the ingredients to the vegetables.
Refrigerate for at least two hours before serving. Serve cold.
Refrigerate leftovers within 2 hours.
Freeze extra lemon juice to use later.
Recipe and images are © https://foodhero.org, used with permission.