Garbanzo Bean Soup with Ham
1 tablespoon extra virgin olive oil
1 cup white onion, finely chopped ( about ½ large onion)
¾ cup carrot, finely chopped (about 1 large carrot)
1 8oz. package of diced ham
½ teaspoon onion powder
½ teaspoon garlic powder
⅛ teaspoon thyme
¼ teaspoon marjoram
2 bay leaves
½ teaspoon white vinegar
½ teaspoon coarse Kosher salt
½ teaspoon pepper
2 (19 oz.) cans Garbanzo Beans, lightly drained
2 cups chicken stock
TINY pinch saffron, like 4 threads (optional, it's $$$)
½ teaspoon coarse kosher salt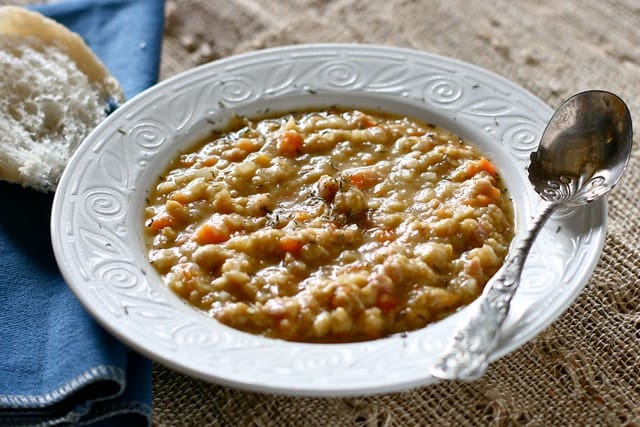 In a medium soup pot, over medium high heat, add the olive oil.
Add the onion and carrots and cook for 5 minutes, stirring occasionally.
Add the ham and cook for an additional 5 minutes, stirring occasionally.
Add the onion powder, garlic powder, thyme, marjoram, bay leaves, vinegar, kosher salt and pepper, cook for 1 minute.
Add the beans and chicken stock.
Bring to a boil.
Reduce heat to a simmer and cook for 15 minutes, stirring occasionally.
Remove from heat.
Using an immersion hand blender, briefly blend the soup, about 5-10 seconds, you don't want a complete puree, you just want it to thicken up a bit.
If you do not have a hand blender, allow to soup to cool a bit and put ⅓ of it into a blender and pulse for a few seconds and add it back into the soup and stir.


This recipe was found on http://www.thehungryhousewife.com/.