1 pound lean ground meat – beef, chicken, or turkey (15% fat)
1 onion, chopped (about 1 cup)
1 can (14.5 ounces) tomatoes, chopped with juice
2 cans (15 ounces each) beans, drained and rinsed (try black, pinto, kidney, or others)
1 can (10.5 ounces) condensed tomato soup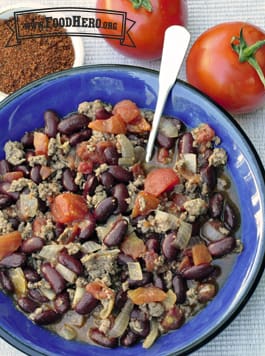 In a large skillet over medium-high heat (350 degrees in an electric skillet), brown meat and onion.  Cook on medium-low heat (275 degrees in an electric skillet) for 5 minutes. Stir often. Drain grease from pan.
Add chili powder and stir. Cook for 3-5 minutes.
Add tomatoes, drained beans, and tomato soup.
Add 1 soup can of water; stir and simmer for at least 30 minutes.
Refrigerate leftovers within 2 hours.
Spice up your Easy Skillet Chili by adding diced green chilies, diced hot peppers, sautéed fresh mushrooms, sautéed fresh garlic, hot pepper sauce, frozen or canned corn, or extra chili powder.
Cook your own dry beans. One can (15 ounces) is about 1 1/2 to 1 3/4 cups drained beans.
Recipe and images are © https://foodhero.org, used with permission.