2 large carrots, diced
2 celery ribs, chopped
1 medium onion, chopped
1 tablespoon olive oil
1 tablespoon butter
2 garlic cloves, minced
2 cans (14-1/2 ounces each) reduced-sodium chicken broth
2 cans (8 ounces each) no-salt-added tomato sauce
1 can (16 ounces) kidney beans, rinsed and drained
1 can (15 ounces) chickpeas, rinsed and drained
1 can (14-1/2 ounces) diced tomatoes, undrained
1-1/2 cups shredded cabbage
1 tablespoon dried basil
1-1/2 teaspoons dried parsley flakes
1 teaspoon dried oregano
1/2 teaspoon pepper
1 cup uncooked whole wheat elbow macaroni
11 teaspoons grated Parmesan cheese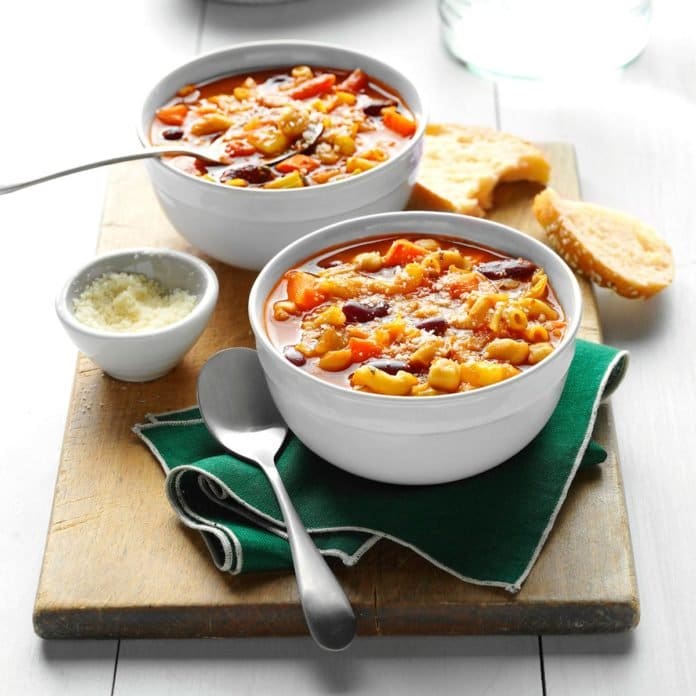 In a large saucepan, saute the carrots, celery and onion in oil and butter until tender. Add garlic; cook 1 minute longer.
Stir in the broth, tomato sauce, beans, chickpeas, tomatoes, cabbage, basil, parsley, oregano and pepper. Bring to a boil. Reduce heat; cover and simmer for 15 minutes. Add macaroni; cook, uncovered, 6-8 minutes or until macaroni and vegetables are tender.
Ladle soup into bowls. Sprinkle with cheese.
Freeze option: Before adding cheese, freeze cooled soup in freezer containers. To use, partially thaw in refrigerator overnight. Heat through in a saucepan, stirring occasionally and adding a little broth or water if necessary.
How do you thicken minestrone soup?
You can thicken minestrone soup by adding 2-4 tablespoons of tomato paste. A larger amount of beans, cheese or other veggies can also help thicken the soup up.
This recipe was found on https://www.tasteofhome.com/