Chorizo, Tomato, and Chickpeas With Yogurt
This chorizo recipe is hearty and substantial on its own, but if you want to put an egg on it, go right ahead.
3 tablespoons olive oil, plus more for drizzling
1 medium onion, chopped
4 ounces cured Spanish chorizo, casing removed, chopped
Kosher salt
1 (14-ounce) can chickpeas, drained
1–3 tablespoons harissa paste
1 (28-ounce) can whole peeled tomatoes
1/2 cup plain whole-milk yogurt
2 tablespoons oregano leaves
Coarsely ground black pepper
Toasted pita or flatbread (for serving)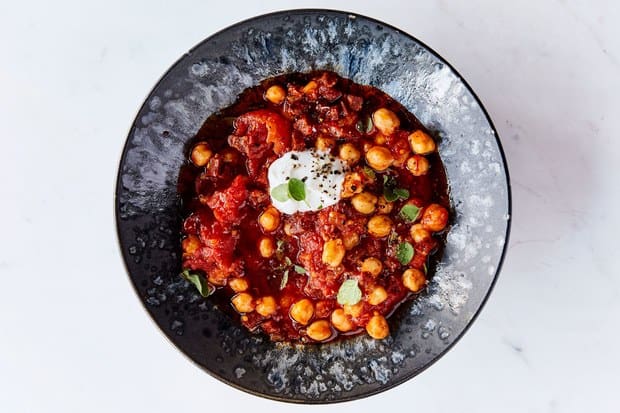 Heat 3 Tbsp. oil in a medium skillet over medium. Cook onion and chorizo, stirring often, until onion is translucent and fat has started to render from sausage, 5–8 minutes; season with salt. Add chickpeas and cook, tossing often, until browned in spots, about 5 minutes. Stir in desired amount of harissa, depending on your heat preference, and cook, stirring constantly, until paste starts to stick to the bottom of skillet, about 2 minutes. Add tomatoes, breaking up with your hands as you go, then tomato liquid left in can, stirring and scraping up browned bits. Bring to a simmer and cook, stirring often, until mixture is thick, 10–15 minutes. Taste and season with more salt if needed.
Top with yogurt, oregano, and pepper and drizzle with oil. Serve with pita alongside.
Chickpeas (without toppings) can be made 1 day ahead. Let cool; cover and chill. Reheat gently before serving. Or, use canned.

This recipe was found on https://www.epicurious.com/