1 can (15.5 ounces) refried beans
1 can (28 ounces) diced tomatoes
1 can (28 ounces) crushed tomatoes
2 cans (15.5 ounces) corn
1 can (15.5 ounces) black beans, reduced sodium
2 Tablespoons taco seasoning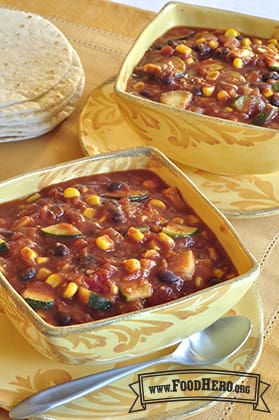 Sauté onion and zucchini in oil until soft.
Add refried beans and stir to break up beans.
Add tomatoes, corn, black beans and taco seasoning.
Simmer over medium heat for about 30 minutes, stirring occasionally.
Refrigerate leftovers within 2 hours.
The more vegetables you add, the more nutrients! Try adding some of your favorites.
Freeze leftovers for another meal.
Cook your own dry beans. One can (15 ounces) is about 1 1/2 to 1 3/4 cups drained beans.
Recipe and images are © https://foodhero.org, used with permission.