Apple Spice Baked Oatmeal
1 1⁄2 cups nonfat or 1% milk
1 apple, chopped (about 1 ½ cups)
2 cups old fashioned rolled oats


TOPPING:
2 Tablespoons brown sugar
2 Tablespoons chopped nuts (optional)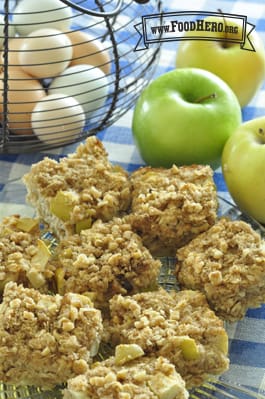 Preheat oven to 375 degrees. Lightly oil or spray an 8″ x 8″ baking dish.
Combine the egg, applesauce, milk, vanilla and oil in a bowl. Mix in the apple.
In a separate bowl, mix the rolled oats, baking powder, salt and cinnamon. Add to the liquid ingredients and mix well.
Pour mixture into baking dish, and bake for 25 minutes.
Remove from oven and sprinkle with brown sugar and (optional) nuts.
Return to oven and broil for 3 to 4 minutes until top is browned and the sugar bubbles.
Serve warm. Refrigerate leftovers within 2 hours.
Substitute other fruit for the apple. Try bananas, pears, blueberries or a mixture.
Serve warm topped with vanilla yogurt.
Recipe and images are © of https://foodhero.org/, used with permission.