1 cup low-fat cottage cheese 1 cup low-fat plain yogurt, depending on thickness desired
1⁄2 teaspoon garlic powder or 2 cloves garlic, minced
1⁄2 teaspoon onion powder
2 sprigs of parsley, chopped or 1 teaspoon dried parsley flakes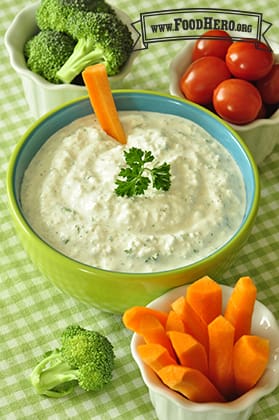 For a chunky dip, mix cottage cheese, yogurt and seasonings of your choice in a bowl.
For a smoother dip, mash cottage cheese with a fork before adding yogurt and seasonings.
For a smooth dip, blend all ingredients in a blender.
Refrigerate leftovers within 2 hours.
Serve with fresh vegetables, or with baked tortilla chips 
Recipe and images are © https://foodhero.org, used with permission.