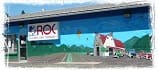 Our Mission — It is our calling and honor to serve those in need with love as Jesus asks us, not out of pity, but with respect for their human dignity, not just feeding their body but  providing for their overall well being-body, soul and spirit.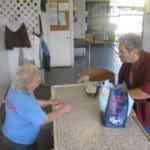 Our Goals  include building partnerships in our community to help in the fight against hunger; providing a training site for youth, women and men to regain skills and experience that help them compete in the marketplace for jobs and income producing opportunities; exploring possible business venues to help the ROC become more self sustaining; and continue reaching out to non-English speaking residents in our community that may not be aware of the ROC services and resources.
Our Thanks to all the wonderful volunteers, churches, the Oregon & Josephine County Foodbanks, foundations, trusts, UCAN, the Gospel Rescue Mission and other fine companies and citizens of our community for all their support. You are the backbone of our service organization and we could not do this without you!
The ROC THRIVES because of committed administration and volunteers;
it SURVIVES because of community and remains SOLID because
it is built upon the ROCK of all ages – our precious Lord and Savior.
Truly – there is no ROCK like our God!!