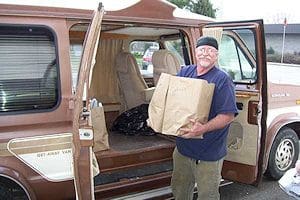 We provide a delivery service for home-bound seniors and those who are disabled in our community. ROC is the only food pantry in Josephine County that offers a grocery delivery service for those who have no other way to access food.
If you meet any of these conditions you may qualify for this service…
Home-bound/Wheelchair Bound
You do not have a caregiver
Lost mobility — recovering from surgery
Bed ridden
Reside in Grants Pass
We are here for those who are home-bound. ROC has guidelines for signing up with our Home Delivery Service, which includes,  if you are not home on the day you have signed up for deliveries, we can't leave a bag for you outside due to Oregon food handling rules and regulations. Call us at 541-476-3344 for more information. 
The folks who distribute the food volunteer their time and service. If you are interested in helping our community we are always seeking new volunteers, call us at (541) 476-3344, or contact us to help.