The ROC is a Community distribution center. YOU, the community support us through volunteer time; financial and food donations, as well as gently used clothing, household items, books, small furniture and camping gear which are all sold at our Back Door Bargains yard sale at prices anyone can afford!  All proceeds go to support the ongoing work of the ROC to help insure that we can continue to fight against food insecurity in Josephine County.
TOGETHER we are Community helping Community!
Brian Bouteller, ROC Executive Director
The ROC has a new warehouse floor, thanks to Team Home Depot!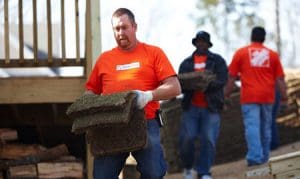 ~~~~~~~~~~
The ROC has a beautiful cement walkway for clients in electric wheelchairs and mommies with umbrella strollers that could not transverse the gravel thanks to Riverside Redi Mix and Serve Grants Pass.
THANKS to Riverside Redi Mix, ROC & Serve Grants Pass volunteers who DID the work!

The ROC has four amazing, reliable people to help with the increasing demand at the ROC – thanks to our partnership with Experience Works & Work Experience!

~~~~~~~~~~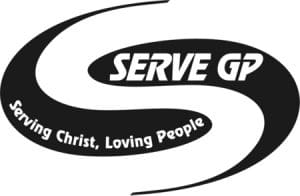 The ROC finally got carpet in the Community Closet /sitting area, thanks to Serve Grants Pass days! Thanks to Lipperts, Grants Pass Rentals and Home Depot Rentals we were given the tools, the glue, the tile strippers to complete the labor intensive job. A BIG thanks to church and youth members from Calvary Lutheran and Grace Bible Church, as well as ROC staff and volunteers who provided time, talent and blood, sweat and tears through their labor!